School location
Palazzo Gherardi, the school headquarters, is a XV century monument located in the centre of the district of Santa Croce, the oldest and most characteristic of Florence.
Around the school, in the ancient streets and squares of the district, the real life of the city takes place: museums, markets, artisans, restorers, cinemas, theatres, restaurants, pizzerias, the University, large and small restaurants, bars, the post office, gardens...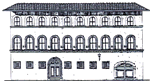 Michelangelo Institute
Via Ghibellina 88, 50122 Firenze - Italia
tel. +39 055 240975 / fax +39 055 240997
skypename: michelangeloinstitute
www.michelangelo-edu it
Taking a walk around the school:
- The House of Michelangelo
- The House of Dante
- The Verdi Theatre
- The Sant'Ambrogio Market
- The Post office
- The National Museum
- The Central National Library
- The Tourist Information Office
- The flea market
- The Teatro della Pergola
- The "Istituto per l'Arte e il Restauro"
- The Enoteca Pinchiorri
- The River Arno
- The University
- The Standa supermarket
- The Church of Santa Croce
And besides these, there are dozens of bars, restaurants, hotels, pizzerias, laundrettes, gyms, gardens...
All the accommodation reserved by the Michelangelo Institute for its students are located near the school and there is no need to use public transport.